a look at myself through the use of literary devices 
a literary memoir
For this project we were given the task of creating a poster about ourselves using literary tools like protagonist and foreshadowing to explain our passions and points of view in life. The most important thing I learned during this project is that if you devote yourself completely to a project you can get a final product you can be genuinely proud of. I wish I could've spent a little more time on figuring out the sizes and dimensions of the passages I created so the pictures wouldn't have been so restricted on the poster. I think the part that I did the best work for in on the poster was the decorating, the borders of the passages the font I used for the title the pictures and the background which is a pattern of red and black stripes that represent my favorite soccer team AC Milan.
I think the most enjoyable part of the project was the making of the poster, putting everything together and creating a visually appealing product was a lot of work but very satisfying in the end. I think the least enjoyable part was the selections I made for each concept, I felt like I had a lot to choose from for each and I was stumped for a long time. I think one way my teachers could've made this project better would be to give us one or two more days to work, I felt a little rushed at the end because we used one day of poster making for revising the writing and while I felt this was good we should've been given another work day to make up for the loss of time.


---
---
Powered by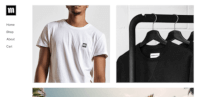 Create your own unique website with customizable templates.