The Struggle of a Young Immigtant
My Name, My Story
For my first project of the year, I created a slideshow video about a struggle I have had in my life and how it has helped shape me into the person I am today. The goals of this project were to allow us to make the connection of how our experiences and struggles have helped us make our lives how they are and to allow us to share something about ourselves to our classmates in order to break the ice and become more comfortable with each other over the upcoming year.
---
Progress
---
---
My progress began by trying to identify a struggle I have had in my life that has affected me in a positive way. After a while, I couldn't think of one so I decided to create my video about my struggle in moving to the United States from Mexico City. After finishing the script and recording the audio I noticed I had too many details to fit the two minute time period. Realizing this, I cut multiple details and events and only focused on my first couple years here in the States. It was a drastic change and the way my family and I handled it has really changed my life in more ways than one. Through this struggle I learned what it meant to advocate for oneself and that no matter what I go through in this life, my family will always be there.
---
Final Product
---
Powered by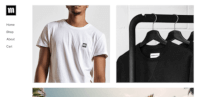 Create your own unique website with customizable templates.