| | |
| --- | --- |
| Project Description | What My Group did |
---
| | |
| --- | --- |
| Sine city was a project in which my entire 11th grade class worked together to design and build a model of a metaphorical downtown San Marcos, our local city. | My group was given one of the corner land plots of the downtown. The plot was about 150 ft wide and 400 ft long. This was the perfect lot to make a single building with a neighboring park. |
Our Building
---
For our building, our plot gave us the ability to make either a commercial or a residential building. Naturally we made a building for both uses. As the "architect" of the group, I was tasked with designing the initial building and finding a way to incorporate the main math concepts that we had to incorporate into the project. These concepts were: the sun path diagrams with trigonometry, geometry, and the golden ratio. As I was designing the building I also had to keep in mind some of the essential city codes for structures in San Marcos: plot ratios (1:1.5), height requirements and the building usage rules. Keeping all of these in mind, I made an initial design and had my group critique it and add input in order to make it a group effort. With this input, the final design was made and can be seen in the picture below. The design is a simple, yet sophisticated take on buildings commonly found in cities such as Portland and New York. With three floors, the building is about 40 meters long and 12.13 meters tall. The first floor houses our two commercial stores and the lobby for the apartments in the top two floors. These floors each have five luxury apartments, four of equal sizes and one slightly smaller one in the middle that has access to the balcony in the front. On the roof we have a botanical garden and some lounging areas for our residents to enjoy the beautiful San Diego County environment and relax after a hard day at work.

Some of the ways the mathematical concepts were integrated into the design were by using the golden ratio to place all of the windows vertically, the sun path diagram was used in order to calculate how long the balcony roofs had to be in order to provide the warmth we want in the winter and the shade we want in the summer according to the angle of the sun, and geometry was used in order to create the 3D shapes and use them to create a single component.

PICTURES COMING SOON
Powered by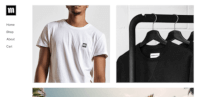 Create your own unique website with customizable templates.