Sociopath:
so·ci·o·path- (n): A person with a personality disorder manifesting itself in extreme antisocial attitudes and behavior and a lack of conscience.
---
The following is a collection of information regarding the two mass homicides of the notorious Guffaw Case and its influence on a rising cult known as Pandora:
Excerpt from notebook found in second scene:

"...The rain danced jubilantly on the window as he went on talking, his monotonous, surly bemoaning of the world drilling into my head like always. He was an emaciated man with a gaunt face and a slicked back hair who always sat in the same table, ordered the same thing and always ranted about everything to no one. I'm lucky he only comes in during the nights so no one can complain about him. I mean a crazy guy sitting alone in a booth going on about some conundrum in life, constantly talking about these clues and hints to an answer or something under his breath before going on about how "gullible" the world is and how when he solves this, this, thing the world will finally see truth or something. He usually spends his entire time here drawing webs connecting random words and phrases to a statement in the center, he says is that statement is the question he has to answer. I don't know what his deal is, but when you see him all you can do is feel bad for the crazy bastard…"


---
Excerpt from the interview of Detective Nick Johnson on the Guffaw Case:
"...The case was horrific. Multiple homicide in a diner, blood everywhere body parts littering the floor and hanging from the ceiling. No survivors, no surveillance recordings, no murder weapon, no nothing. All we had was an hour long audio recording of sloshing sounds, grunts, and screams that transition into silence before a small giggle becomes audible. Eventually the giggle grows into guffaws that last for about ten minutes straight. A lost case that also happened to be the most disturbing one I ever encountered. Still have nightmares where I just walk into the place again and again, that's the type of shit you just...You never come back from seeing that you know. I remember that the longer the case went unsolved the more attention it gained in the media, everyone on this case worked their ass off to close it down and after six months we finally closed the damn thing. Hardest case I ever had. And we wouldn't have been able to if there wasn't a second attack. Same MO as the first: secluded diner, same gory mess and the recording was almost identical to the first one, but this time the asshole left something. There was a notebook in the office of the manager and the murder weapons: a set of knives and power tools. It took us three months to find the guy. Name was William Krill and I can honestly say that I had never even thought of killing a man until him. Sadistic, jaundiced and a downright psychopath. In the interrogations he was cold, non-responsive, and vacant until you mentioned the murders. When you did that he became the most gregarious, excited person in the world. He would sit up straight, big smile on his face began asking us if we had liked his "jokes", then he would just laugh at us when he saw our face before breaking down, violently trying to get out of his cuffs while screaming about how he was going to kill us. After a month in custody he was given the death penalty after he pleaded guilty for first degree murder of all the victims in diner homicides and what he said were another 152 people…"

---
Personal Note left behind by the last known leader of the Pandora before his disappearance:
Hello, if you are reading this I have either died or become what I was meant to become. I have spent the last fifteen years of my life researching and preparing for what I am about to do. When I was seventeen I read a puzzle about life for the first time and since then I have been pondering it and trying to solve it. In my research I found a man who, like me, was trying to solve this puzzle for years and had found the answer. When I found this, I began to do everything I could to find out everything about William Krill and his journey to find the answer. After repeating his methods, I too found the answer, and when I did I began to plan my thanks to him. Towards his end he went on two jaunts. His two jaunts were his way of showcasing his answer, and to give him thanks for helping me find the answer I will become his sycophant. To do this I will emulate his two jaunts to the most minimal detail and try and accomplish what he couldn't finish, the sequence of jaunts that will reveal the truth to the world. The truth of eternal happiness. If I do not succeed, YOU must. Because of this I will now bequeath unto you the puzzle that will lead you to eternal happiness. But before I show you I must ask one question:
"Will you kill for me?"
…
Powered by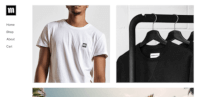 Create your own unique website with customizable templates.